SMART SENSORS  for Scalextric Sport Digital
Welcome to the future
The Smart Sensor is designed to be used to sense the passing of digitally chipped cars. As the car passes over the sensor the sensor senses the car and sends that information to a computer.  Sensors can be placed in any location on the track – they are taped to the underneath of the track between the rails.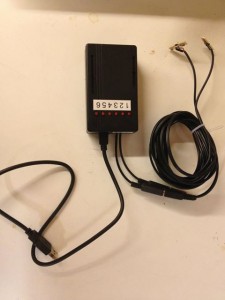 They can be used to sense a car entering or exiting the pits or, when used with RCS64, they can be used for the timing of individual sectors of the track. They have been tested successfully with Scalextric and Slot-IT chips/LEDs.
The Smart Sensor has 3 modes:
Smart Sensor – mode (SS):
In this mode RCS64 (F1 Edition only) will keep track of the pit status, pit entry and exit, of all cars through using the information received from the Smart Sensor.
Sector Timing – mode (SE): (Future Development)
In this mode, Smart Sensors in cooperation with RCS64 (F1 Edition only) can be used for sector timing.
Pit-Pro mode (PP):
Makes it compatible with PCLapcounter, SSDC and all other Pit Pro compatible Race Management Systems (Check that your chosen RMS supports Smart Sensors).
Smart Sensor Technical Details
–          USB connection for power and communication
–          Two sensors (pit-in, pit-out)
–          Sensors are  taped to the existing track, no need for track modification
–          2 meter sensor wire to each sensor (Standard USB cable can be used to extend reach  if required)
–          LED's on Smart Sensor box for indication of pit-status (ID  1-6 in pits)
–          Full access for the Arduino headers into the Smart Sensor box. This enables  Start lights to be connected without any modifications
–          Configurable sensor sensibility
–          Full support for RCS64 Formula 1 Edition light-options (Start, Track Call, Pit In, Green) – firmware upgrade available through RCS64  F1  Edition interface.
NOTE:
Sector Timing Mode is still under development, but will be available  in a future RCS64 Formula One Edition release.
It is not possible to time more than one sector at the present time, although this feature will be available in the future.
It is not possible to use both Pit Sensing and Sector Timing at the present time, although this feature will be available in the future.
Pricing and Availability
Cost per Smart Sensor Unit:  60 Euro (includes Smart Sensor unit and two sensors)
Postage and Packing Costs:
Denmark: 5 Euro
Europe:  7.50 Euro
World: 10 Euro
Payment can be made by PayPal only.
Please visit  http://www.Smartsensor.seras.dk to learn more, check availability and find out how to order your SmartSensor.
Also keep an eye out in our News section for details of the SMART MEGA SENSOR!
PIT PRO
What is Pit-Pro?
Pit-Pro is a modified Scalextric Pit Lane Game. It can be modified by Rich G or RikoRocket to act as a pit lane for use with Scalextric race management systems that support the C7042 Digital Advanced 6 Car Powerbase, such as RCS64, SSDC and PC Lapcounter.
If you have both the sensor in the track that comes with the Scalextric Pit Lane Game and an extra track piece with a sensor in, which you can buy from Rich G, a car is sensed entering the pit lane, which triggers the car to travel at 'Safe Speed'. You can only refuel, change tyres, repair damage or pay a 'Stop and Go' penalty while you are in the pit lane.
To know more about how to use Pit-Pro and RCS64 view this video – http://youtu.be/jxq5rwvOjgw
For more information about Pit-Pro contact  Rich G via richg@girling.net
Andy P (Vector)