Finally the update of v4 is out.
See the list of updates in the VERSION tab.
Last minute change we deleted the local web page feature, it would cost us too much support in the current form (with regards to firewalls etc.) but will be back in a better form in an update.
We know there is a mistake in the tyre wear results, this will be fixed soon.
Thank you all people who supported us and helped with the testing!
Hi all RCS64 users and friends,
We promised that we would make a bug fix release shortly after the release of version 4. It's taken us a bit longer than we hoped to get that release ready, but here it is. v4.0.0.22
There is no need to delete v4.0.0.8 from your computer prior to downloading v4.0.0.22.
The exciting news is that this is not just a simple bug fix version, to be honest we didn't have a lot of bugs to fix, it actually includes a few new features and enhancements.
Enhancements and new features –
* In the event that a car pushes another car out of pits when that car is in pit menu the pit menu closes.
* A very simple results viewer. YouTube video
* New SmartSensor firmware version.
* Marshall's flags added.
Changes –
* You cannot choose same driver for all the cars
* You have to choose a car before you can start a race
* Small improvement in the event handler so you can't start without having an event chosen.
* A popup in the start off RCS64 if you have not changed your Latency to a low value.
* Safe Speed now based on % of max throttle (63) not on highest value of throttle profile being used.
* A lot of small improvements for handling the Registration key and the type of Edition used (Pit-pro on/off)
Bugs fixed –
* Race end issue in practice and qualifying
* Improved controller detection on RCS restart
* Copy tyre wear profiles issue
* Space Bar and APB start button can now activate track call.
* Pace cars adjusting throttle at race end issue fixed
NOTE: If you are using SmartSensors you will need to update the SmartSensor Firmware on the Main Menu page of RCS64
After a very hard few months the RCS team have decided to take a short 6 month break from developing new features. We can assure you that development will continue again after our break. Many new features and enhancements are planned for the future including support for Oxigen controllers.
Please feel free to contact us during this break via the RCS forum to report bugs or ideas for future development, we will be more than happy to hear from you.
The RCS team hope our users are enjoying using v4 as much as we intend to do over the next few months.
Have Fun!
Marcel, Martin and Andy
RCS64 now has it's very own Forum.
Feel free to ask questions of our experienced users.
We even have boards for French, Danish, German, Spanish and Dutch speakers.
The forum is in it's early days so please help out by making a post.
All RCS64 users should have received an email which includes a v4 Registration Key Request Form.
If you are a registered F1 or F3 user and have not received a form please email rcs64rms@gmail.com and we will send you one.
Andy P
Team RCS64
We have finally decided on the date for the release of v4!!!!
The date will be Friday 28th November at approximately 5pm UK time.
Our Beta Testing team are about to start testing our 'Release Candidate!'. In other words, the version we are expecting to release.
To use the new version, v4, all users will require a new registration key. We will shortly be sending an email out to all of our users with a Key Request form attached. This form will need to be completed and returned prior to being sent a v4 key.
On the 28th users will be able to download the new version of RCS64 from our website. They can then enter their new registration key and away they go.
Hope this all makes sense, however if you have any questions please feel free to contact us via email at rcs64rms@gmail.com .
We will be raising the price of RCS64 on the 28th. If you are an existing user of the F1 Edition prior to that date you will receive your free upgrade to v4 – F3 users can save money by purchasing the full F1 Edition of RCS64 now.
The RCS team is extremely happy to make this announcement. You will be happy to know that Martin is already working on a number of new features that will be added some time in the future. More news on this at a later date.
Looking forward to the release.
Andy P
Team RCS64
RCS64 v4 when released will have support for Scorpius Wireless Controllers. If you have no idea how this works watch the video.
Here is a short video showing what you can expect in Version 4 of RCS64 when it is released. V4 is a totally reworked version of RCS64 with many new and exciting features.
As of yet a release date has not been decided on but Team RCS are working as hard as possible to get it released soon.
A further update on the progress of the new version of RCS64 v4Finally we start to see some light at the end of the development and test tunnel.
Time to share the features that will be present at release and features that will follow after release.RCS64 v4 F1 features (in no particular order)
– practice
– qualify
– race (grand prix/endurance)
– analog mode
– pit pro support
– smart sensor support incl. firmware update from within RCS64 and start light/track call light/pit status led control.
– arduino uno/mega/nano support for lights
– fuel load simulation
– tyre wear simulation
– track condition simulation
– damage system (handicap)
– stop and go
– autopit feature with smart sensor (pit menu opens)
– scorpius throttle support including integrated test tool
– improved dynamic user interface, no fuel/tyre/damage chosen is no fuel/tyre/damage status in dashboard
– optional sorting of dashboards
– optional parallel tyre changing/refuelling
– new pit menu style and options
– throttle calibration
– throttle profile editor
– improved user settings, incl. personal throttle profiles and handicap setting.
– improved car data base
– multichannel sound system incl back ground sounds
– false start option
– event planner
– rotation and points system
– pace cars
– (I may have forgotten some)
The first new features on the 'to do 'list after release.
RCS64v4 is for some of these features more or less already prepared.
– DRS
– Safety car mode
– Rally mode/Rally cross mode
– Locator Pro/Smart Mega support
– Results/historic data viewer and analyzer
– Endurance race ends
– Random failure simulation
– Oxygen support
– Pit Stop Strategy
Martin and I know that it is getting time to release, but we want to reach the same level of reliability and stability as v3.0.0.87.
At least the list of things to do before that time is getting short now, we can start checking the list of one by one and than we can send a version to the testers. Somewhere around Gaydon I think we can start testing with more people.
Finally I want to share some screens with you (note; pre-release, the GUI needs some updating)
1) The new race screen where all action takes place (Practice, Race and Qualify). Dashboard can be sorted by position, or not. Note the IP (Information Panel) on the left with general race data, weather and track status.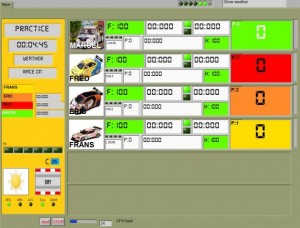 2) The event planner. You can make events by selecting the race modes you want (Practice/qualify/race) and the options, like fuel simulation, tyre simulation. You can save these settings and use these events in a series, or run a single event.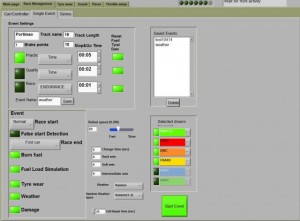 3) Tyre settings. Really proud of this one! Use the defaults settings or adjust to your own liking. We have 4 different tyres, and 3 different types of track condition. Each combination has specific values. For example, a hard tyre will feel different on a damp track. An intermediate tyre will be the best choice on a damp track, slightly worse on wet but almost undriveable on dry. You can edit these values how you wish, to simulate 1:1 conditions. Biggest win compared to v87 is the transition from dry to damp to wet track. More strategy, with better control.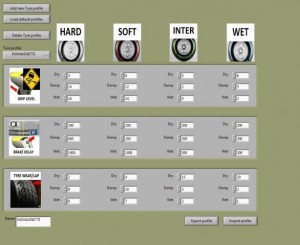 4) Scorpius throttle support. RCS64 v4 has a built in test and ID assign tool.