Race against 5 other cars without anyone else in the room!
Variable speed and fixed speed Pace Cars!
Pace cars make pit stops!
Pace cars brake and change lanes!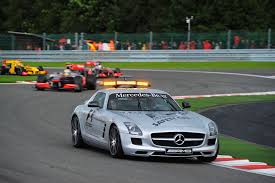 (Yes, this is the F1 Safety Car, and yes a Safety Car feature is being worked on as well as Pace Cars!)
Pace cars can be programmed to drive around the track at either a constant speed or a variable speed. Programming them to drive at a variable speed allows you to have Pace Cars that are really very quick – they can slow for bends and accelerate down straights.
You can also program them to make Pit Stops, or if you don't have a pit lane they can be programmed to not count certain laps. This enables you to race using Fuel and Tyre features more realistically.
They can be programmed to change lanes at the exact changer you want them to. They can also change lanes randomly.
For those really sharp bends on your track you can program the Pace Car to brake just prior to the bend.
When racing more than one car you can set the lap time for all cars to the same time. This enables you to have a number of cars lapping on a small circuit without bumping into each other – speed is auto adjusted to keep all cars lapping at the required speed.
The introduction of the Pace Cars feature adds a whole new world of fun to slot car racing !
With or without friends RCS64 is lots of fun!
Make sure you have updated to the Formula One Edition, if you have not already done so, as the Pace Cars feature is not available in the F3 Free Edition.
Have fun
RCS64 Team